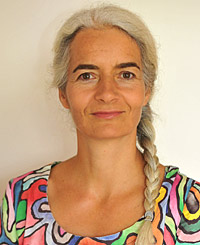 born 1961
married
2 children
living in Schwerte close to Dortmund
gardener
Dipl. Ing. of landscape architecture (TU)
since 2009 working as a naturopath in own rooms
since 1998 continuous seminar work
I am on my way to a medicine woman since 2006, bridging the visible and invisible aspects of the worlds. Clairvoyant, carrier of the holy pipe, leading sweat lodges. Offering regularly sweat lodges in Schwerte and in Sweden. Introduction to the ceremonies of the natives.
heath practitioner since 2009
offering a shamanic education group "Back to my Roots" since 2015
Shamanic training 2006 – 2014
Reiki training 1995 – 2003
Teacher of the Vedic Mantra Meditation 2012
Helping as a clairvoyant since 1998
Offering courses in the use of the rod/pendulum since 1999
My gratitude goes to all, who taught and supported me patiently.